Tips For First-Time Renters
If it's your first time renting an apartment, trying to sort through everything you need to know can be overwhelming. Even if you are lucky enough to have someone helping you through the process, there's still plenty of things that can be missed, and plenty more to learn for when it's time to rent your second apartment.
To help you best prepare, Union on 5th is providing some valuable information you should know before and during your application process to rent your first apartment. Contact us today to schedule a tour and see why residents love our luxury apartments.
Understand What You Can Afford
Before ever signing your name to a rental application, it's important to realistically consider how much you can afford. Generally speaking, rent shouldn't exceed more than 25% of your income. Leasing offices will be taking a look at this as well, so it's best to have your finances in order before applying. However, many university students won't be able to meet this requirement because they don't have time for a full-time job while attending classes.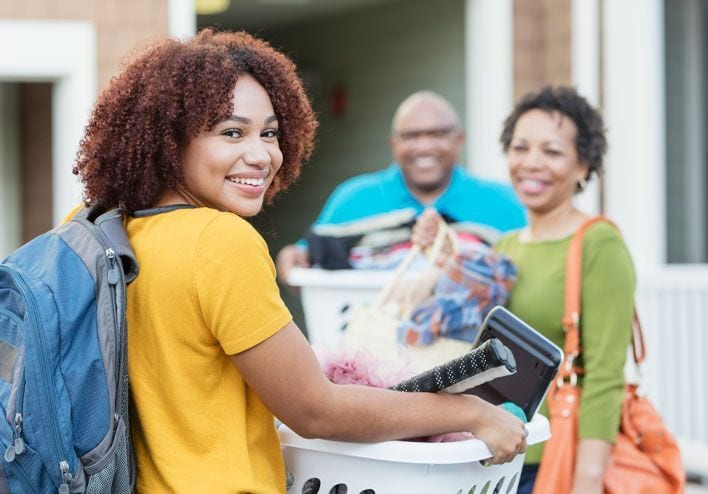 In this case, a parent or trusted family member or friend can act as a guarantor or co-signer. This simply means that they agree to be legally responsible for your monthly installment payments if you are unable to make them on your own. Having a guarantor or co-signer can also help you be approved if your credit score isn't high enough.
Find An Ideal Location & Friendly Roommates
It's also important to consider the location of potential apartments. There are many great online resources to help you determine the safety of a particular community, its proximity to school, work, and other important locations such as restaurants, shopping options, and entertainment venues. Union on 5th is located in the heart of Pittsburgh, just minutes away from a plethora of popular destinations students and professionals love to frequent.
You should also determine if you want roommates. If you're moving to a new city, roommates can be a great way to make your first friends. They can also help keep the costs of renting down. At Union on 5th, we offer roommate-matching services so you can be matched with other residents who have similar interests, hobbies, and even study areas.
Check Out The Benefits
While not the most important aspect of renting, you should also compare the different amenities that communities provide to their residents. Because not all of your time will be spent working, studying, or attending classes, it's important to be able to come home to apartments that feature resort-style amenities that help you manage the stresses of being a university student.
First-time renters typically don't own a lot of the larger pieces of furniture that are necessary for a home, so opting for furnished apartments can help you save money. Common furnishings can include a bed and mattress, dresser, desk, couch, coffee table, and kitchen appliances. Check out our gallery to see what our apartments come with!
Don't Forget To Tour
Make sure to tour each community that you are considering. This will give you the opportunity to meet the staff, ask any additional questions, view the apartments and the grounds, and perhaps meet some residents who might be able to give you insight into what it's like to live there.
While online galleries and reviews are a great starting point to see what a community is like, nothing beats a friendly, in-person tour. Plus, you'll get a feel for the type of lifestyle the apartments provide and can determine if the community is the right fit for your wants and needs.
Understand The Application Process
Once you've settled on the perfect place, it's time to submit your application. Make sure that the leasing office has provided you with all of the fees and information necessary to submit your application. While not all applications require this information, make sure that you have the following on hand:
Photo ID, such as a driver's license or passport
Copies of your last two pay stubs
Copies of your last three bank statements
Personal information, including your social security number, email, and current address
Guarantor application, if applicable
You should also be prepared to authorize both a credit check and background check, and pay any fees or deposits necessary. Verify with your leasing office if they want deposits and fees paid online, with a cashier's check, money order, or personal check.
Review Your Housing Contract
Reviewing any document before signing it is important and the same is true for your housing contract. The contract should lay out the terms and conditions for your residency, including your move-in date, community rules and regulations, how much monthly installments are and when they're due, terms for renewal or termination, and any requirements from the tenant, such as having renter's insurance
At Union on 5th, residents are only held responsible for their own spaces and monthly payments. We provide our residents with individual housing contracts that protect them and their guarantor in the event that a roommate misses a monthly payment or breaches their contract.
If you have any questions or concerns with your housing contract, make sure to address them with the leasing office before signing. Once your housing contract is signed, there's nothing left to do but pack for your move and get excited about living in your first apartment!